Big Hit Kickboxing Studios
I'm a mess. At this point in time I feel like a bit of a fraud because I crushed my goals in Korea, and have completely negated the work I put into getting healthy in the 5 months since I've returned home. Guys – I'm fat again. I lost a total of 50 pounds while in Busan and maintained it for  2 years living in Seoul. The gym was a priority 4-5 days a week and then I pretty much ate and drank whatever I wanted. It appears you just can't do that in North America. You will get huge again. Such is life having dropped 10 pounds in Bali only to come back and gain 20. I'm not quite the heifer I was when I left for Korea, but I'm getting damn close.
A New Kind of Commitment: Big Hit Kickboxing Studios
Tomorrow morning my diet gets back on track. Low carb has always worked well for me, but keeping my macros in check is much more attainable long-term. To become the lean, mean, fighting machine I was a mere 150 days ago, I need to make some big changes. My friends at BIG HIT KICKBOXING STUDIOS reached out after reading my latest and greatest in Toronto Gym Alternatives. I've already started walking from midtown to my downtown gym in the mornings (5 km), but my intensity once I get there is lackluster at best. If Big Hit can help me rev up my workouts, sign me up right now. I mean, wouldn't you want abs like that? We've committed to one another for the next 3 months. I've now got the swanky apartment, kick ass new job, and my best gals back in my life. Big Hit committed to my fitness, now it's time of me to buck up and commit to healthy eating (oh – and keep an eye out for men who aren't terrified of that "c word" either!)
Gidon Gabbay, Co-Owner/ Director of Fitness at Big Hit Kickboxing Studios invited me in for a one on one. I try to come fresh-faced when working out, but I might make it a habit to dress myself up a little more, because he's about as hot as my gloves felt after our 45 minute beginner session. More importantly, I felt pretty bad-ass after training. He was patient when I messed up the combinations and even cracked a few jokes throughout. Sometimes I feel like trainers phone it in or get frustrated when exhaustion hits. Not today, thankfully. Whenever I made a mistake or needed a correction it was more matter of fact than criticism. The whole experience kept me motivated.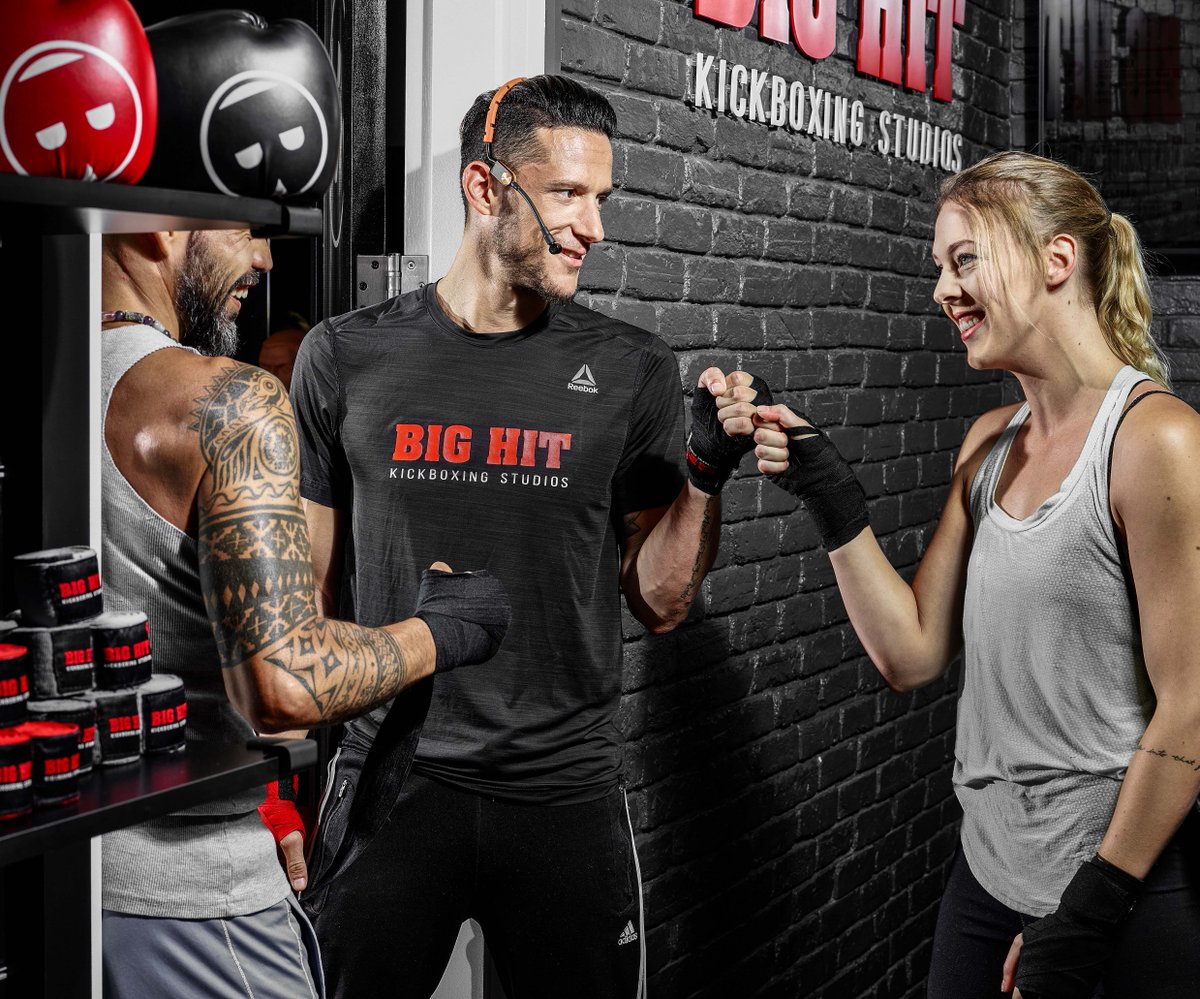 Invest in Yourself
Every beginner who wants to improve should invest in themselves as we did today. I never thought to register for a pad session because I thought it was just for really serious fighters or those who wanted to compete. The fear of failure and rejection seems so deeply ingrained in me that I didn't think I was worth the time, money, or effort. While you'll be able to get a lot out of these classes, with a private pad session you'll be able to get so much more once you understand the language ("jab", "cross", "hook", and "uppercut", etc.) You'll have someone providing the attention to little things like the way your hip turns, the placement of your shoulder, or merely just to remind you to keep your gloves up.
Big Hit Kickboxing Studios Classes
Over the next few months I'll be reviewing studios in the downtown core and writing up my feelings on the different classes and instructors:
SMARTBOX

– 60 MIN

: A class focusing solely on technique and the fundamentals of Muay Thai Kickboxing.
KICKBOX – 45 MIN: Traditional fight style combinations with Muay Thai, kickboxing and boxing!
POWERBOX – 45 MIN: Exercises involving traditional and non-traditional dynamic & empowering creative strikes.
BALLINBOX – 45 MIN: A hole new dimension to your kickboxing workout with the addition of weighted slam balls.
IRONBOX – 45 MIN: Cross training & resistance band exercises, isolating different muscle groups, for a great muscle conditioning & cardio workout.
COREBOX – 45 MIN: Designed for the CORE with rotational creative kickboxing and boxing strikes along with core isolated exercises.
REVBOX – 30 MIN: Non-stop high-intensity class, consisting of 20-second sprint pace strikes, followed by, 10-second power strikes. No breaks.
ROUNDBOX – 45 MIN: 3-5 minute rounds, alternating between striking combos & body movements using round resistance bands focusing on functional strength.
Big Hit Kickboxing Studios have locations on Queen West, at Fort York, and a brand new studio on the Danforth I can't wait to start visiting! Keep an eye out on ThatGirlCartier.com where I'll be writing Sweaty Sunday reports on what I ate, when I worked out, and how much weight I'm actually dropping. Yes – you'll see my actual starting weight, current weight, wins, losses, and measurements. If you feel like joining me, they have a 2 week unlimited offer for $59 + HST. You get your gloves and wraps included – it's a steal. After class you get a chilled, lemongrass-scented towel. Whenever I earn that bad boy Limp Bizkit's "Nookie" blasts in my head!
Float like a butterfly, sting like a bee. In just 3 months you'll see a brand new me.
Have you been to Big Hit Kickboxing Studios? Let us know your favourite location in the comments!