A Seoulcialite Stay at Traders Hotel, Kuala Lumpur
I booked a flight to Kuala Lumpur, Malaysia in the middle of the night during a particularly strange bout of insomnia.  Not knowing the city, I wanted to be in a central location close to all the amenities.  When in a new city, I usually prefer to walk everywhere I can.  Kuala Lumpur is not exactly a pedestrian-friendly locale.  I was so relieved to stay at a luxury hotel in the heart of the city: Traders Hotel, Kuala Lumpur!
The Petronas Towers View @ Traders Hotel
When I arrived in Kuala Lumpur it was around 10 PM, but I didn't arrive at Traders until about midnight.  Once I got through the horrendous line at Malaysian customs/ immigration, I took a GrabCar as I was told it's cheaper than Uber.  My driver was chatty.  I usually dislike too much talking in a taxi, but the driver was local and knowledgeable.  When we approached Traders Hotel, I got a view of the Petronas Towers, KL Tower, and the city skyline lit up at night.  The Petronas Twin Towers were the tallest buildings in the world from 1998 to 2004.  They are still the tallest twin towers in the world.  My shots from the car were horrible.  With the rain, my night shots from the hotel room weren't fantastic either (see above).  In the morning it was spitting, too.  The towers and surrounding gardens were pretty epic from our Traders Hotel Deluxe Twin Tower View Room.  On the 29th floor, we had access to executive amenities as well.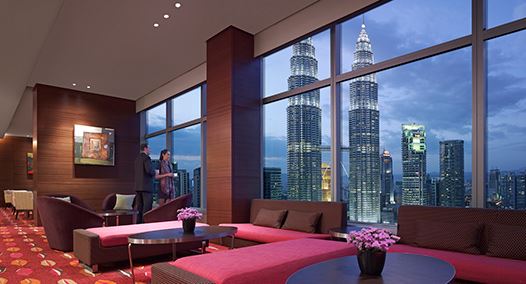 Traders Club guest rooms are equipped with:
Free Wi-Fi and wired data port / broadband Internet access
Built-in international adaptors
Extra power points
Glass-topped desk with stationery
Chair with castors for easier movement
Traders Club Lounge offers:
Check-in and check-out on the club floor
Wi-Fi Internet access (Free)
Breakfast, afternoon tea and evening cocktails at the Traders Club Lounge* (Free)
Beverages throughout the day at the Traders Club Lounge (Free)
Fresh fruits available on a daily basis
Local newspapers available upon request
Free suit pressing and shoeshine service
Free 2-hour use of a meeting room
Concierge service
*Traders Club Lounge's Evening Cocktail Hours are from 5pm to 7pm. Please dress appropriately (no bathrobes, house slippers or swimwear allowed).
Traders Hotel: First Impressions
Check in on the 5th floor was a breeze.  My friend had already checked in and put down the deposit clearance on the room.  I was assigned an additional 2 keys then was off to the races.  The elevators at the hotel are plentiful, but a bit on the slow side.  We found ourselves taking the "milk run" floor to floor frequently.  The room itself was smaller than I had imagined, especially being that I was paying a media rate rather than enjoying a room in kind for an honest review.  The beds were quite small.  They were also on the firm side, which didn't initially please me.  The bed actually helped my back after having lugged 2 carry-ons from Seoul to Kuala Lumpur.  I was a big fan of the huge pillows, but felt the linens could be softer and a comforter more plush.  We were welcomed with fresh fruit and adorable cupcakes.  The cupcakes had real, thick, chocolate ganache on a vanilla cupcake I could have done without (it was quite dry).  There was a box of chocolates awaiting our arrival, and we gobbled up those delicious sweet treats in a hurry!
Luxurious Bathroom in our Traders Hotel Room
The bathroom was the star of our room at the Traders Hotel.  While the view of the Petronas Towers from bed was great, the rain shower was even better.  There was plenty of room for 2 gals' cosmetics, etc.  Toothbrushes, Colgate toothpaste, a razor and shaving cream, an emery board, epsom salts (for that lovely soaker tub), q-tips, shampoo, conditioner, and body lotion were all ready for us.  I hate bringing a oothbrush and toothpaste from home (it always seems to explode!) so having everything already there was quite handy!
Traders Hotel in-room Eats
The room service menu at Traders Hotel is actually pretty reasonably-priced…for food.  The price for alcoholic beverages is kind of out of this world considering how cheap it is to buy from a restaurant or corner store.  In fact, on Monday night when we went out in Jalon Alor it was ladies night.  We didn't pay for a drink the entire night!  Make sure to check out the night market, food street, bars, and clubs in that area as we met some great people and danced til the whee hours.  If you can make it back to the room before midnight, you'll be able to order room service.  Otherwise, make sure to pick somethingup from one of the many night market stalls offering Chinese, Middle Eastern (Arabic), and Malaysian fare.
I always jump for joy when I get to review a hotel in a new locale.  Traders Hotel did not sponsor my trip, but the room was provided at a discounted media rate.  While this article has been written in partnership, all reviews are honest and opinions are my own.